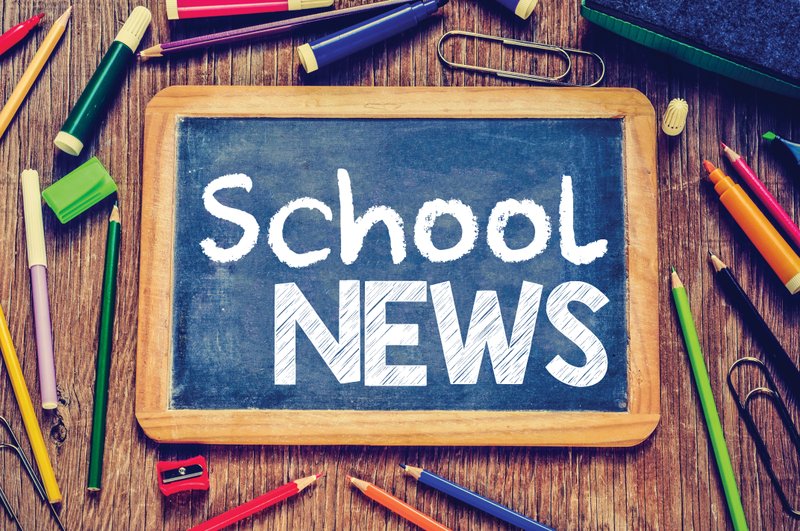 2021-2022 HOMEROOM SCHEDULES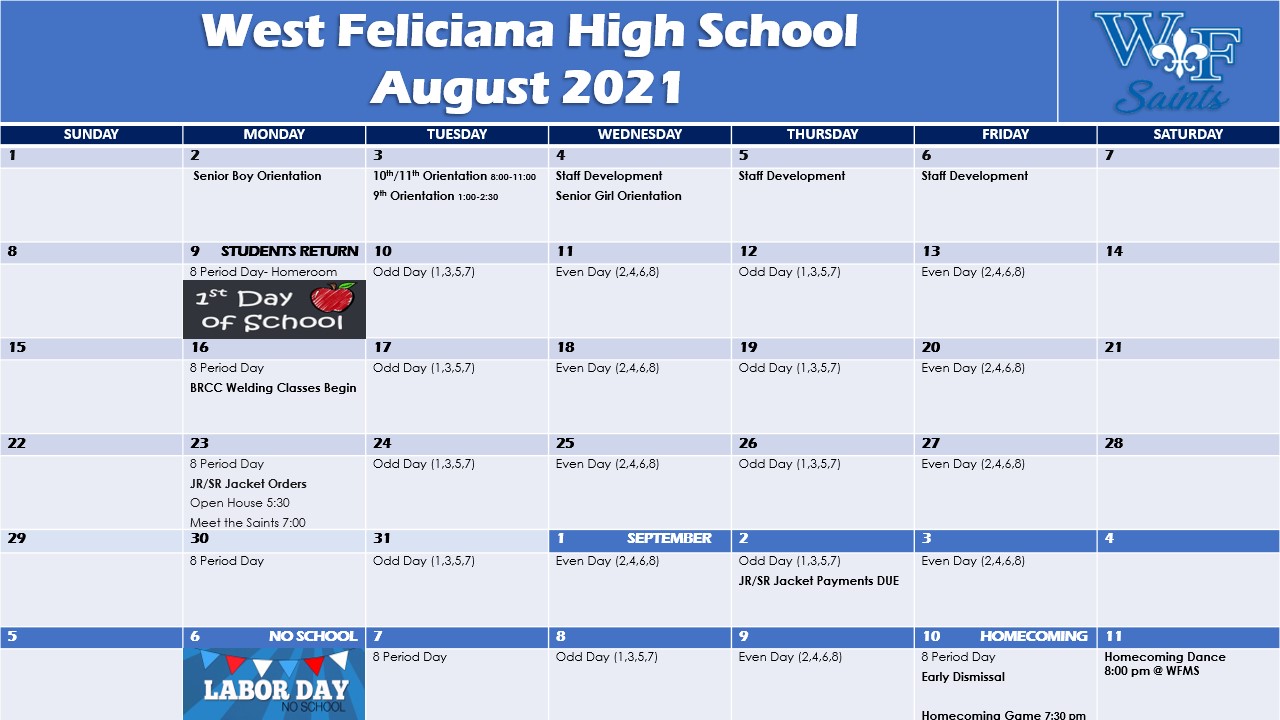 WFHS STUDENT ORIENTATION 2021-2022
Important Information:
10th/11th Grade- August 3 8:00-11:00 in WFHS auditorium (Students can come any time between 8-11)

9th Grade- August 3 1:00-2:30 in WFHS gym (Parents and students should arrive at 1:00 for an information meeting)

Senior Boys- August 2 8:00-4:00 in WFHS auditorium (Lifetouch will email appointments)

Senior Girls- August 4 8:00-4:00 in WFHS auditorium (Lifetouch will email appointments)
Students will meet faculty and staff, take ID/yearbook photos, tour the campus, pick up course schedules, pay fees, and purchase PE uniforms. Parking permits will also go on sale August 2 and 4 for seniors, August 5 for juniors, and August 6 for sophomores. If you have any questions, please email Ms. DeSalvo at DesalvoH@wfpsb.org or Mr. Cutrer at CutrerB@wfpsb.org.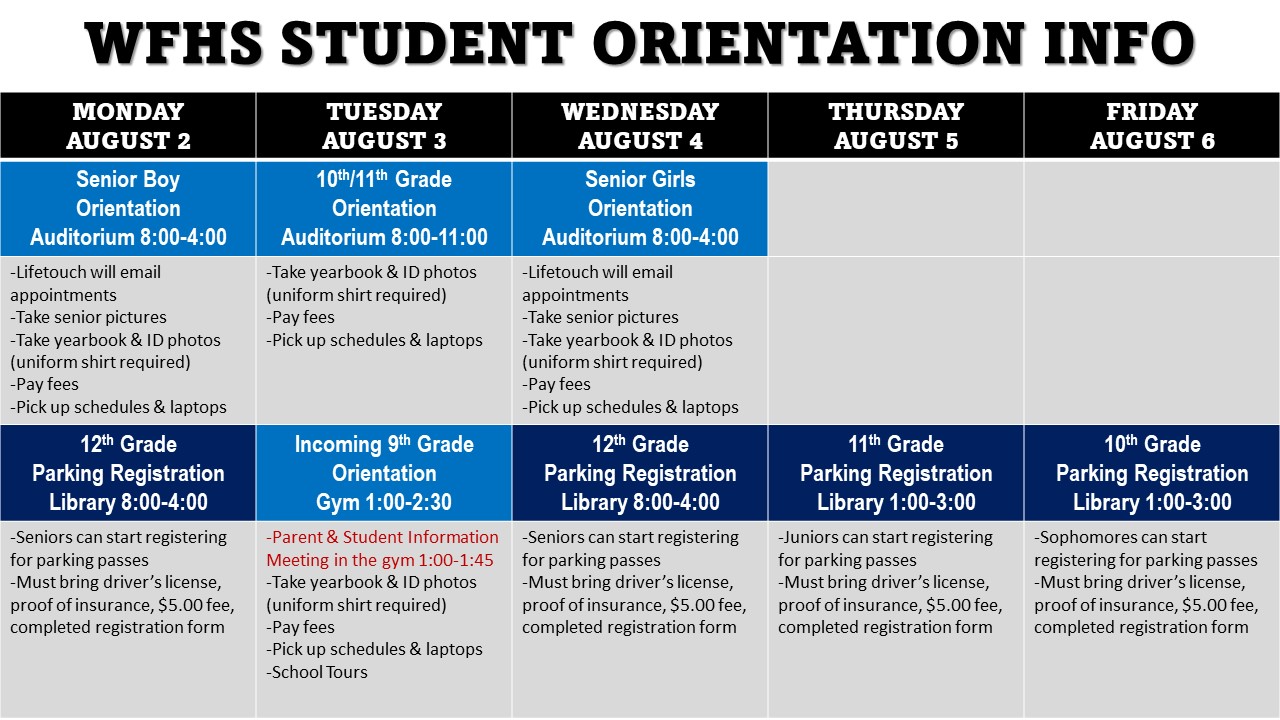 The West Feliciana Athletic Department is hosting a summer program for students (boys & girls) in grades 3-8. Please use the google form to sign your child up today!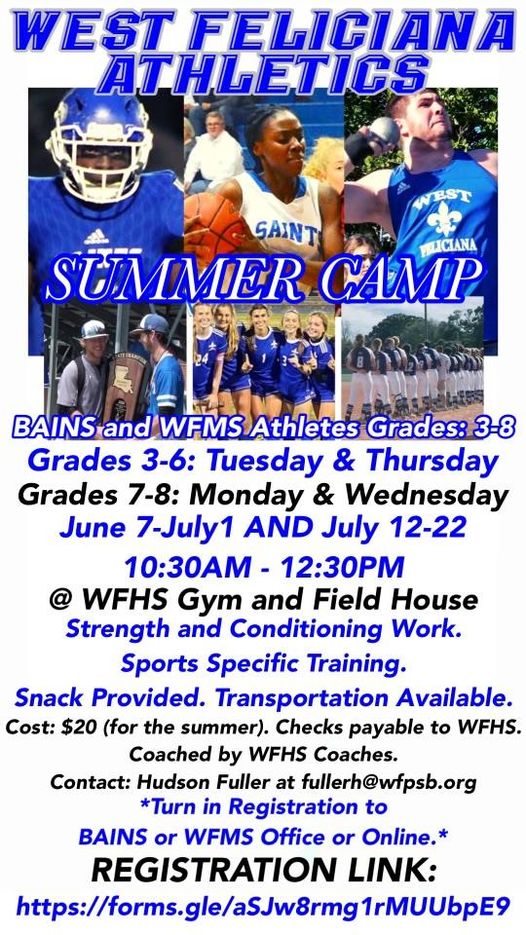 Summer School 2021 will begin June 1 and go through June 30 Monday-Thursday. We are excited to offer in-person summer school this year! Click the link below to learn more.
West Feliciana High School's Graduation Ceremony will be held Friday, May 14 at 7:30 p.m. at the West Feliciana High School Stadium. We could not be more excited to celebrate our seniors. Seniors need to be on the track no later than 6:45 p.m. for the graduation exercises which will begin at 7:30 p.m. It is imperative that you be on time!
Arrival Time: The stadium gates will open at 6:30 p.m. for entry. Every guest in attendance, regardless of age, must have a ticket to enter the stadium. Graduation announcements and/or invitations are not acceptable for entry. If a guest leaves the stadium, they will not be allowed to re-enter.

Stadium Entry, Exit, and Seating: Due to COVID-19, we recommend the wearing of masks upon stadium entry and exit. At the end of the graduation ceremony, we ask that you please exit immediately to avoid congregating. Please note that according to the new guidelines, social distancing and the wearing of masks will not be required.

Tickets: Each graduate may invite no more than 12 guests and will receive tickets to give those guests. Every guest in attendance, regardless of age, must have a ticket to enter the stadium. Once guests enter the stadium, they will not be allowed to exit for any reason.

Baccalaureate: We will hold our Baccalaureate service Monday, May 10 at 6:00 p.m. at the West Feliciana High School Auditorium. Masks will be required at this event. Graduation tickets will be distributed immediately after the baccalaureate service in the auditorium lobby.

Graduation Practice, Senior Breakfast, & Congratulatory Walk: Graduation practice is mandatory for participation in graduation exercises. Seniors will report to the track Thursday, May 13 at 7:45 a.m. They should arrive wearing their caps and gowns for the "congratulatory walk" through the halls of Bains Lower and Bains Elementary. Seniors should be dressed appropriately underneath their cap and gown. After the walkthrough, they will remove their caps and gowns and report to the Bains Elementary cafeteria for the senior breakfast. After the breakfast, seniors will proceed directly to the stadium for graduation practice. Do not make any plans or appointments Thursday morning from 7:30 a.m. to 1:00 p.m. Students who are employed should notify their employer that they may be delayed reporting to work.

Scholarship and Financial Awards: If your student has received a scholarship or financial award from a college or university, he/she needs to send the official offer to Ms. Jessica Walker by Friday, May 7. Seniors need to make sure they have given Ms. Walker the name of their final school choice for their final transcript.

Dress Code for Graduates:

Boys should wear dress shirts – short-sleeved dress shirts or short-sleeved collared Polo shirts are acceptable – dress slacks, dress shoes or dress boots with socks. A tie is optional. Sandals (boys only) and athletic shoes will not be allowed.

Girls should wear dress shoes and nice dresses or pant suits. Nice sandals will be allowed. Girls should also bring several bobby pins to attach their caps

Gowns should be taken out of the package in advance and pressed with a cool iron.

Behavior:

Seniors who show signs of being under the influence of alcohol or other drugs will not be permitted to participate in graduation exercises.

Inappropriate behavior will not be tolerated during graduation exercises. Seniors who engage in inappropriate behavior during the ceremony will be removed and will have their diplomas withheld until appropriate action has been determined. No gum chewing and/or cell phone use during graduation exercises.

Photography and Live Streaming: A professional photographer will take pictures of all seniors receiving their diploma. No one, other than the contracted photographer, will be permitted on the field. The ceremony will be live streamed to the West Feliciana High School Facebook Page.

· Rain Contingency Plan: In the event of inclement weather, we will proceed with our graduation ceremony at the stadium Saturday, May 15 at 10:00 a.m. If inclement weather prevents a ceremony at the above time, our ceremony will take place at 2:00 p.m. If inclement weather prevents a ceremony at the above time, our ceremony will take place at 6:00 p.m.

Handicap Parking and Seating: Handicap parking will be available in the grassy area on the north side of the stadium and in the gravel area nearest the stadium. You must have a handicap parking tag that can be picked up from the library at the high school Thursday, May 13 from 8:00 a.m. – 3:00 p.m. Handicap seating will be available in the front center of the stadium. This seating is limited and must be reserved by emailing Ms. Heather Bell at BellH@wfpsb.org no later than 3:00 p.m. Thursday, May 13. In the email, you must include the name of the disabled person and the name of one guest who will accompany this person. FYI – Just because you picked-up a tag for your vehicle does not mean you automatically have reserved seating.

Additional Information: Please remember that no balloons, posters, umbrellas, and noise makers will be permitted in the stadium. The yard signs in front of the high school along highway 61 is our gift to the seniors and may be picked up at your convenience any time after the graduation ceremony.